Timby for Supply Chains

Corporates/Brands/Investors

Real-time worker and community engagement
Anonymous grievance system via WhatsApp, App, SMS or Voice
Built-in wellness surveys
Visualizations and analytics for root cause analyses
Exceed compliance regulations
API integration with existing software
Timby for Environmental Advocacy & Human Rights

Indigenous Groups/NGOs/Institutions

Access satellite and change imagery on mobile devices
Anonymous submission with evidentiary chain intact via app and WhatsApp
Offline and low-network and literacy options
Visualizations of reports in timelines and on maps
Create PDF reports, blogs and policy documents
Data Sovereignty: select from a wide set of permissions to share as little or as much data as needed
Use all of Timby's tools or integrate one or some into existing workflows
Timby for Accountable Governments and Institutions

Governments/NGOs/Institutions/Consultants

API integration with government or company systems
Anonymous grievance system via WhatsApp, App, SMS or Voice
Built-in surveys
Visualize analytics on a dashboard to dig into root cause analyses

Get Started
Timby for Community Journalism

NGOs/Institutions

Assign and aggregate reporting from both assigned monitors and citizen journalists
Anonymous reporting via WhatsApp, App, SMS or Voice
Offline and low-network and literacy options
A true information management system - never lose media (images, videos, audio recordings) again
Publish reports and stories to social media, your own website or use a custom Timby website-builder

Get Started
How it Works
Timby (This is My Backyard) is a suite of interconnected digital tools and training that help teams tackle complex problems securely. Whether you are working on transparency, compliance, climate change, human rights or the wildlife trade, Timby helps turn localized data into remedy with three tools.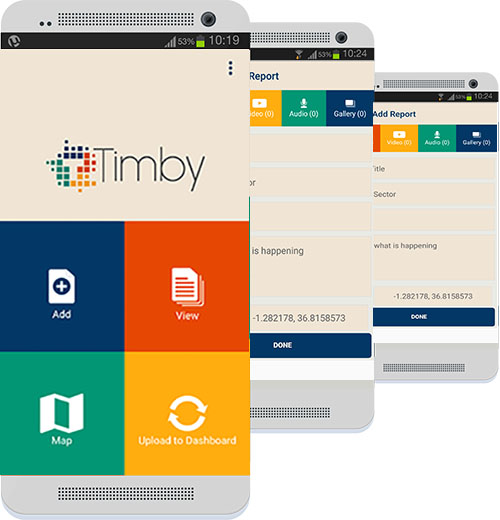 Engage
Simple, secure and systematic reporting from the frontline, anywhere in the world.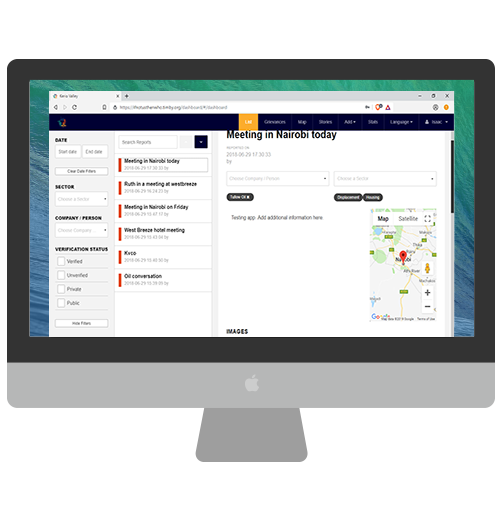 Monitor
Find connections between events and individuals over space and time. Follow and resolve grievances with transparency.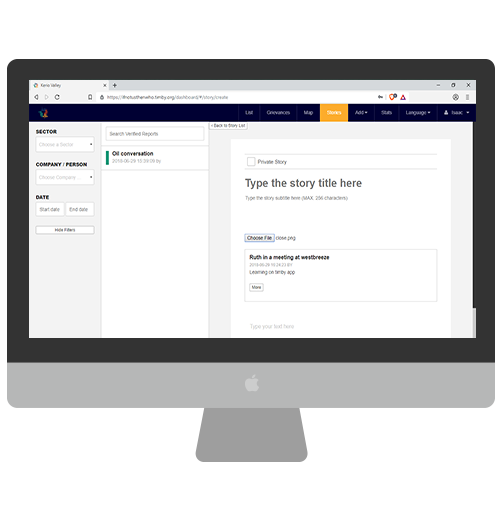 Share
Share reports, blogs, stories and forms for maximum impact.
Timby was conceived and built in Africa
We built Timby over a decade in close collaboration with groups from around the world. It is now available in 18 languages and is being used by institutions, investors, companies, citizen journalists, lawyers, activists and NGOs in 40 countries around the world. The map below shows some of the places where Timby is actively deployed.
Read our Case Studies
Join Timby
Timby is built for scale. The ultimate goal is 5-minute setup for even the least computer-savvy. We want you to be able to use Timby to change your own backyard.
Send us an email